[wptabs type="accordion" style="wpui-light" effect="slide" mode="horizontal" background="false"][wptabtitle]Where are the classes held? – venue, facilities & directions[/wptabtitle]
[wptabcontent]The Dance Studio. Woodford County High School. High Road. Woodford Green. Essex IG8 9LA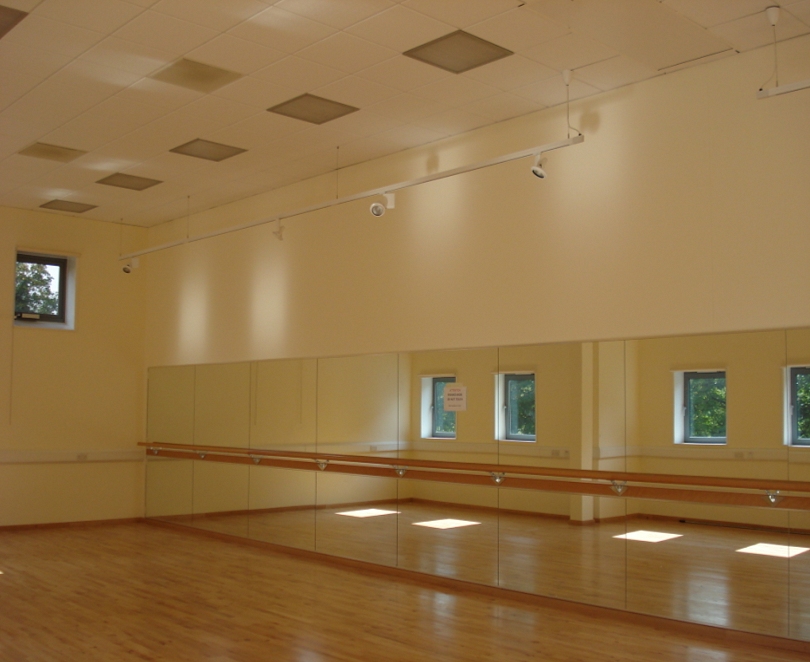 Mirrored studio. Some yoga mats provided but I recommend bringing your own for hygiene purposes.
Toilets. Changing Rooms . Disabled access. Air Conditioned. Free car park
Visit http://www.woodford.redbridge.sch.uk/ for directions and nearest tube and train lines. Buses that stop directly outside are W13, 20 & 179 . If driving use the Vehicle Entrance beside the bus stop on the main road (High Road), which will lead you left to the glass fronted Sports Hall. You can park anywhere in this area.[/wptabcontent]
[/wptabcontent]
[wptabtitle]What are the types of tuition and equipment provided?[/wptabtitle]
[wptabcontent]
Gliders – core strengthening & balance using these Gliders under the feet or hands to slide across the floor creating a greater "reach" and extension of muscles especially when lunging or doing press ups . Additional tools incorporated are weights, Stability Balls, combat techniques as great toning & cardio vascular workouts which tone & work up a sweat. Really challenging but great fun and sure to work off excess fat in no time Trademark catchphrase "Glide into your Jeans" is what it's all about.
Equipment that Natasha provides : Gliders . Circuits . please bring your mat or towels and weights if you like
Swiss Ball – devised for  strong core strengthening developed simply to balance on the ball & workout simultaneously great for co-ordination and fat burning . Weights can be used to intensify the workout  if you are well practised. Ideal for fat loss & all over toning body as this has a strong cardio vascular workout which works up a sweat but you have to be focused or else you'll fall off the ball.
Equipment that Natasha provides: Swiss Balls . please bring your mat or towels and weights if you like
[/wptabcontent]
[wptabtitle]I'm not sure what I need – can you analyse my health and well being for me?[/wptabtitle]
[wptabcontent]Absolutely, in fact most of us need to have an annual professional analysis of what's not working in our lives, which minerals, vitamins and nutrients your body is actively telling you it is lacking, the levels of stress or sleep deprivation etc, simply to accommodate the effects on your hormones and physical and neurological well being . I have no problem referring you to other professionals should they offer services (like acupuncture or reflexology) be better for you .I'll arrange  a FREE 30 minute  call or skype with me to discuss and assess your requirements  [/wptabcontent]
[wptabtitle]What are the things I need to bring to my first class? [/wptabtitle]
[wptabcontent]
Completed Physical Questionnaire – besides being an insurance necessity it helps me help you during the class . If you are currently pregnant I will need send you an additional Pregnancy Physical Questionnaire ..
Mat – or 2 large bath towels to lie on if you don't have a proper Pilates or Yoga mat.
Bottled water or non-carbonated drinks to keep you hydrated.[/wptabcontent]
[wptabtitle]What do I wear?[/wptabtitle]
[wptabcontent]
Swiss Ball & Gliders:   trainers (not plimsoles)  . stretchable clothing
Lots of sportswear is non stretchable (e.g has no lycra or elastane content) which restricts and harbours your movement and is unsuitable for exercise classes.
Baggy loose clothing is fine as are short Hijab's (to avoid being caught in excess fabric) but body hugging / fitted clothing is always best for you to see exactly what your body is doing.[/wptabcontent]
[wptabtitle]What are the fees?[/wptabtitle]
[wptabcontent]A class is just £9.95 when you book all remaining weeks of a course with a FREE session when you book before the term starts or a FREE session with every two new friends you bring. I recommend booking at least 24 hours in advance for equipment and space purposes as I pride myself on running exclusive personal training classes of just 7 students so once those spaces are fully booked, you'll have to wait until next term for a space .
I no longer offer single drop in session as it is;
not effective for you to work in such an ad hoc manner (your body needs 3 cardio session per week for a healthy heart and lungs)
your brain cannot retain what is learnt with gaps in-between sessions, which will slow down the teaching for my other participants
we only have 7 spaces and I elect to work with clients who want the absolute best for themselves week in week out
[/wptabcontent]
[wptabtitle]Do I need a separate Health Questionnaires for different Solari UK classes ?[/wptabtitle] [wptabcontent]Yes, simply because instructors will only bring the specific class details that he's teaching on that day; he will not have , for example, his Yoga class forms for a Pilates class.These Health Questionnaires are a legal and insurance necessity you cannot be taught without it as it invalidates the instructors insurance cover. Your forms should be updated by you as and when you have any ailments or injuries so that the instructor is fully aware in writing, of any conditions you have or develop. [/wptabcontent]

[wptabtitle]How many people are in each classes [/wptabtitle]
[wptabcontent] At Solari UK we pride ourselves on running deliberately small classes so for Adrian classes there will be between 7 – 15 students. This is so that you get more 1-2-1 attention, more space and a more accurate way of how Pilates and yoga were originally taught in studios with a max of 8 students

This is why pre booking is essential as we may postpone classes if we do not have the minimum of 7 courses booked [/wptabcontent]

[wptabtitle]What if the class is cancelled what happens ?[/wptabtitle]
[wptabcontent]

Sadly if we do not have 7 people booked on the full course at the start of a term the class will be postponed for a few weeks then, if the numbers are still below 7 the class will be cancelled .

When you book you are told which number student you are { e.g no. 4 of 7} so you know how many more students are needed or whether the class will be cancelled You will be emailed either confirming the class will commence, giving it a few week postponement or cancelling it until the next term

You will be refunded for whatever you paid if courses are cancelled happens and we hope to see you next term when we try to run the same class again

This is again why we offer a FREE class with early booking as both an incentive to book early and a way to get the classes started with the minimum number of 7 students needed, as quickly as possible [/wptabcontent]

[wptabtitle]Do I need a separate Health Questionnaires for different Solari UK classes I attend ?[/wptabtitle]
[wptabcontent] Yes simply because you need the specific Health Questionnaire is for the specific class you attend.

These Health Questionnaires are a legal and insurance necessity – you cannot be taught without it. [/wptabcontent]

[wptabtitle]I can't make every week so can I split a course with a friend? [/wptabtitle]
[wptabcontent] Yes you can if you're pre booking a full course  . If you a have a friend who is as pressed for time as you are and who can't attend every week I offer you the facility to book one course and split it between the two of you (you decide who attends which week).

Simply book online, emailing me the names of who the two people splitting the sessions are and I'll send each of you each the relevant Health Questionnaires. You then decide between you who is attending which sessions, email me 24 hours  before a  class so we have a record of who is attending which class ( you will decide between you who gets the free session if you've booked before the deadline date for that bonus.

I know of no other course facilitators, public or private who offer this service so I hope it helps save you money by sharing the weeks between you[/wptabcontent]

[wptabtitle]Which level is suitable for me?[/wptabtitle]
[wptabcontent] Don't worry if you've never done  Swiss Ball and Gliders  before or if you're "rusty", everything will be demonstrated and explained fully before you try it. We don't generally segregate my classes into Beginners & Advance groups as often brand new people can progress quickly into advance levels whilst others who have practiced elsewhere for years cannot and they may be disheartened if kept in a beginners group. If you're well verse in our classes you'll be progressed within the group to your higher level so whatever your ability, our teaching is tailor made for each & every individual student. [/wptabcontent]

[wptabtitle]Will I ache after your classes?[/wptabtitle]
[wptabcontent]
Yes, sometimes for up to 7 days after my classes as my regulars often complain about.This depends on how physically active you are before we meet will determine which type of aching you will experience. The aches and pains experienced in my classes, and often 3-4 days later, are anatomically constructive and controlled, (i .e by design / meant to be) therefore are not physically detrimental to you. New clients fall into two categories of pain threshold :

Physical Inactive: you will be aching because you are not used to putting your body in the correct position it was designed to be in, you have little or no body awareness so my classes will be mentally and physically demanding until you adopt these principles as part of your every day existence. This is the equivalent of having  braces on your teeth: there will be discomfort and aching until the teeth are in the correct position which takes time and perseverance. You are also trying to break the bad postural habits of decades unless you have, and maintained, a dance or gymnastics background .
Physically Active – you too will be aching due to me pushing your boundaries both mentally and physically during a class to ensure you maintain the standard that you've established and to progress onwards doing harder and more demanding activities.[/wptabcontent]

[wptabtitle]What about the "bring two friends and you come for free" offer?[/wptabtitle]
[wptabcontent] Bring two new paying friends  to any Pilates . Swiss Ball . Gliders . Yoga  and you don't pay for your own session or if you've pre paid you'll be refunded for that session in the manner that you paid. It's my thank you for promoting my classes to like minded people . All students must be doing the same class at the same time and the free session is only viable with new people you introduce to the classes. [/wptabcontent]

[wptabtitle]I'm pregnant can I still join your classes?[/wptabtitle]
[wptabcontent]Yes but only if I have worked with you prior to your pregnancy so I can assess what your normal range and ability is. You will be hyper mobile during pregnancy and if you're not used to this.[/wptabcontent]

[wptabtitle]Do you have women only / men only / disabled only sessions? [/wptabtitle]
[wptabcontent] As a teacher and educator with over 17 years experience I pride myself on being able to teach all manner of students with all types of needs simultaneously and am a firm believer in an "open door policy". However, if you'd be more comfortable with single gendered or specialist sessions, I'd recommend starting your own private group at home or at work at a time and place of your choosing for about £3.58 p/p p/hour. This way you can select the participants you want for your group without infringing upon EU Equal Opportunities & Discrimination legislation. For more details go to the Private & Workplace Tuition section of my site to see how easily, cheaply and quickly your own classes can be started. [/wptabcontent]

[wptabtitle]What conditions have you taught?[/wptabtitle]
[wptabcontent]I've taught people how to deal with and strengthen themselves with the following issues;

*Muscular Dystrophy *Scholiosis *Kyphosis *Rheumatism *Cancer (pre and post operative & non operative patients) *Arthritis *Spinal Injuries; prolapsed discs / compression
*Joint injuries/damage  *Hip & Knee Replacements *Metal Plating (back,ankles,feet,shoulders,hands) *Spinal narrowing *Fibromyalgia  *Polycystic Ovary Syndrome
*Hamstring Damage *Sciatic Nerve *Motor Neuron Disease * Sight & Hearing Issues *Tendonitis *Cardio Thoracic Patients (pre & post operative)
*Asthmatics*Diabetics * Hypertension/High & Low Blood Pressure *Crones Disease *Lupus Sufferers *Graves Disease *Multiple Sclorsis
*Repetitive Strain Injury *Insomnia *Depression *Obesity & Body Mass Issues *Pre & Post Natal *Anaemia / Sickle Cell Anaemia

It is always advised to seek the permission of your GP, Physio, midwife or any other medical consultant/ practitioner you're working with before joining any fitness classes. Please feel free to pass them my details if they'd like to contact me in person.[/wptabcontent]

[wptabtitle]What are the age limits for your classes?[/wptabtitle]
[wptabcontent]For fitness classes there is no lower or upper age limit set by legislation though I'd always recommend seeking the advice of your GP or consultant when starting exercise programs. My specialist training for Elderly clients (YMCA) means that I can adapt exercises for their specific needs and my regular Criminal Records Bureau checks (CRB) means I have the additional approval to work with under 16's & Special Needs clients. Children can do any of my classes for their well being or medical conditions though I do limit the use of heavy weights / resistance due to the maliable quality of their bone density. I would expect to have partental consent on all booking forms and when paying for anyone under the age of 16 to ensure that the parents approve of the work being done, though this is not currently required by law.

I am regularly CRB checked (Criminal Records Buereau) so am fully approved to work with children of all ages, special needs adults and all learning groups. I have no problem being CRB checked for your own institution should you require it.[/wptabcontent]

[wptabtitle]Should I exercise if I'm tired or unwell?[/wptabtitle]
[wptabcontent]No reputable exercise instructor will EVER advise working out when your fatuigued or unwell. If you think about how dangerous it is to drive or work large machinery when you're unwell or tired, as it compromises reflexes and concentration which will cause accidents, the same is true of exercise. Though this seems to be common sense many people turn up to classes when hugely fatigued or ill and create more problems for themselves and the instructors teaching them. You get no credit for simply turning up, it's the quality of the work you do  that should be important to you.

Having said this, people who exercise and work hard / intensely  2-3 times a week are usually able to be just as focused and determined when they're tired or unwell; I myself, have continued with a full day of classes when I'd severed my right hamstrings and dislocated my right hip (2006) so working out or teaching when injured or unwell is not an issue for me because I have a strong will and am extra vigilant about working "to my edge" . Exercising does detoxifies the body and is recommended when suffering with a hangover or a cold but only you can judge whether you have the temperament, stamina and determination of a semi-athlete to work effectively or whether skipping a session to rest and recover properly, would be better for you.[/wptabcontent]

[wptabtitle]How late can I arrive at  your classes?[/wptabtitle]
[wptabcontent]You will not be admitted if you are late to any of my classes. You cannot afford to miss the beginning of any session as all vital for your own health & safety because;

vital instructions and safety measures are reinforced within the first 5 mins of a class
a proper warm up for all classes is a Health & Safety requirement
in fairness to the other participants who will be disturbed, will have my attention diverted or would be asked to move to make room for later comers.

It always amazes me how many people thank me when I cover classes at  gyms and studios for not allowing latecomers (usually persistent latecomers) and mobiles to interrupt the practice. It's a shame that latecomers and the instructors who allow such bad practice don't realise how distruptive and unfair their actions are to everyone other paying client in the group.  So, in all of my classes later comers are not permitted as is the practice in all reputable UK Fitness Network gyms, health clubs and studios who allow no late admittance for classes.

The exceptions to this are those who I've worked with on a regular basis or who are advanced enough to know exactly how to warm themselves up, without needing my coaching. In these cases if they are late, they will be allowed to join because the health & safety element can be fulfilled, however  my regulars are never late because they have  a very disciplined and hard working ethic so it's never been an issue[/wptabcontent]

[wptabtitle]When to call if I need information not already listed here?[/wptabtitle]
[wptabcontent] Hours to phone are 10am – 21.30pm BST for all enquiries or booking classes on 020 8523 5145 . Email is always preferred as I can answer it when I'm able [/wptabcontent]

[wptabtitle]Do I need any supplements? if so what do I specifically need?[/wptabtitle]
[wptabcontent] The answer is YES  because the RDA's set by the EU are based on the 70 year old requirement of the Second World War when life expectancy was considerably lower. I would only recommend 100% potency products by internationally renowned USANA as they are guaranteed for quality, purity and are the No1  products in the world class athletes so do visit my USANA Health Sciences section on Products to view the range and I'll be happy to advise on that.[/wptabcontent]

[/wptabs]