As I've chosen not to teach since 2016, the following pages are simply for reference and for those booking a Health MOT consultation so that they have a full understanding of my qualifications and experience in relation to the advice and guidance I give. My credentials and insurance remains up to date.
Fabulous fun classes that burn body fat  to disco tracks so you  don't realise how hard you're working . This tuition is always popular with both men and women because  with Swiss Ball or Gliders you really can't "fake" good core stability, else  you'll be off the ball or Gliders .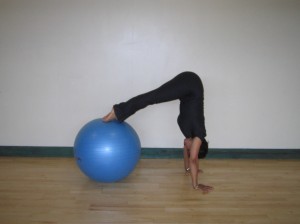 Gliders – devised core strengthening & balance using these Gliders under the feet or hands to slide across the floor creating a greater "reach" and extension of muscles especially when lunging or doing press ups. Additional tools incorporated are weights, Stability Balls, combat techniques as great toning & cardio vascular workouts which tone & work up a sweat. Really challenging but great fun and sure to work off excess fat in no time as their Trademark catchphrase "Glide into your Jeans" which is what it's all about.
Swiss Ball – devised for strong core strengthening developed simply to balance on the ball & workout simultaneously great for co-ordination and fat burning . Weights can be used to intensify the workout if you are well practised. Ideal for fat loss & all over toning body as this has a strong cardio vascular workout which works up a sweat but you have to be very focused, else you'll fall off the ball.
Natasha is a highly experienced instructor working with all types of ability, disability, mental frailty, age and pre and post natal needs though with all clients she emphasis precision and accuracy above all else: there is no other alternative in her tuition. Her teaching is anatomical, meaning it is very physically demanding, time and energy effective and completely safe as well as being tailored to the physiology of a Western body, hence why she is so strict on precision. Yet  everything she teaches can be used for all physical activities you'll ever attend  – cycling, dancing, swimming, aerobics  – and will ensure a long, active and mobile life.
Her classes are training sessions which will become lifestyle choices, adopted outside of her class . . so don't ever let her see you with bad posture whilst you're shopping or out and about!